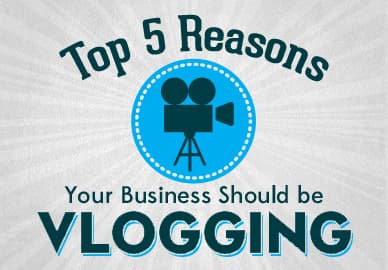 Businesses big and small are using vlogs as another way of reaching their target audience – and for good reason. A vlog, or video blog, is simply a blog in video format.
Thanks to the rise of sites like YouTube, video has become the new go-to source for finding information.
Vlogging is a cost effective way of reaching your target audience in a personal, engaging and interactive way.
Both blogs and vlogs can be very powerful marketing tools. However, video blogs expand upon the benefits of typical blogs in a number of ways.
So if you're on the fence about starting one, here are the top 5 reasons why your business should be vlogging:
1. Easy To Do
You don't need to be a video expert to start a vlog.
Since more people are creating their own online videos, production quality standards have dropped significantly. People don't need to see movie quality video to get to know you and your business on a personal level. It doesn't have to be a big production either. Video blogs focus more on content then production complexity.
If you have something worthwhile to say, simply pick up a camera and start shooting. All you really need is a camera with video capabilities and a computer to get started. Check out some examples on our YouTube channel. User-friendly websites like YouTube and Vimeo allow you to upload videos easily. Once uploaded, they can be easily embedded onto your website.
2. Adds a Personal Touch
With video you can reach your customers on a more intimate level. It adds a face and voice for people to identify with.
You can send out your brand message in an informal way. Unlike commercials, video blogs feel less intrusive and improve the chances of people actually seeking out your video instead of the other way around.
Providing quality and informative content is a great way to build brand loyalty. People are more likely to come back to you if they feel you present worthwhile content. Doing so builds a positive relationship with current and potential customers.
3. Show Off Your Expertise
Vlogs are a great way to establish yourself as an expert in your field. They allow you to share your knowledge with the public in meaningful ways. You can give insider tips, how-tos or simply share more information about what it is that you do.
People respond to businesses they know more about. Show your audience you know what you're talking about. Build their trust by providing valuable information. Let them know more about your business and products. They will be more inclined to do business with you.
4. Reach a Wider Audience
Did you know that YouTube is the #2 search engine in the world?
More people are using YouTube and other video sites, like Vimeo and Dailymotion, to search for information and products than ever before. Having your vlogs available on these sites make your content available to a very wide audience.
By creating a video blog, you're also increasing your overall online presence. Posting videos on other sites, as well as your own, can increase the number of people finding your business. The more content you add to your vlog the more your visibility will increase.
5. Unlimited Sharing
Social networks make it easy for people to share your videos. This sharing capability gives your vlog the potential to reach audiences exponentially.
Have fun! The more entertaining and helpful you make your vlogs the better chance your audience will want to share it with others. Take the time to create engaging content and you could see your vlog go viral.
Every business, whether large or small, can benefit from starting a vlog. For more information on vlogs and how they can help your business contact Netwave Interactive Marketing. We can help you get started today!
Check out our latest vlog on Google's recent updates:
Website SEO Opportunities from Netwave Interactive on Vimeo.