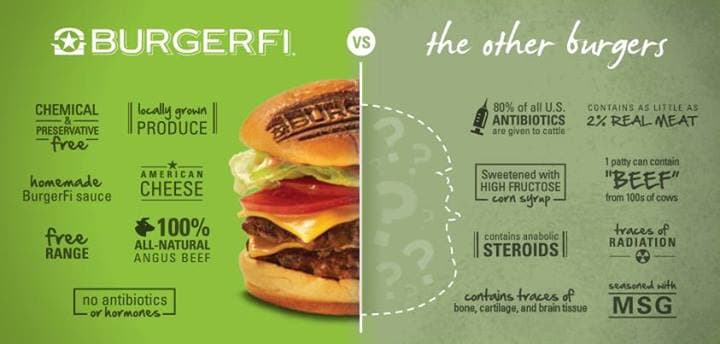 We're pleased to announce the addition of an exciting new client to kick off the year. Located in Old Bridge, New Jersey, Yantra Foodco is the statewide Master Franchisee for BurgerFi restaurants. Based in North Palm Beach, Florida, BurgerFi is the fastest growing all-natural burger franchise in the country. We're helping Yantra open three showcase sites in New Brunswick, Secaucus and Philly! Then there's plenty more to follow.
To start, its all-natural menu consists of just six items. You heard that right, 6 items: all natural grass-fed Angus burgers, fresh hand-cut fries, mouth-watering Wagyu Kobe beef dogs, deliciously healthy veggie burgers and of course beer battered onion rings. Also enjoy custard, craft beers, and wine. No mystery meat "big meals", dairy by-product "shakes" or salty frozen fries. Everything is prepared fresh in-house, farm to table.
Secondly, the restaurants are bright, hip and filled with chairs and tables made from recycled products. Each chair is made up entirely of recycled soda bottles!
We're excited because BurgerFi's principles are healthy for everyone: all-natural food, reliance on sustainable resources, a fun-loving attitude and a creative approach to life.
We enjoy promoting positive messages, so get on the BurgerFi bandwagon. They'll smash those other guys!
Netwave Interactive offers a full range of marketing and advertising services. Let us tell your story. Contact us to schedule a consultation.