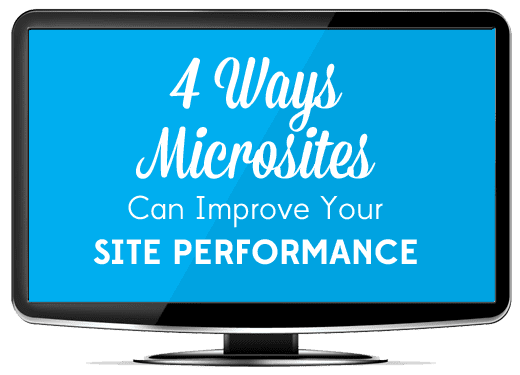 Microsites are small content specific websites with a flat link structure allowing for easier navigation which can be used to link to larger main sites.
The creation of microsites is a very efficient way to improve keyword search rankings without having to make major changes to your preexisting website.
Here are 4 ways using microsites can improve your site performance:
1. More Lines in the Water
The "more lines in the water" you have, the better chance you have of attracting new business.
Creating these mini websites will increase your reach by giving people more independent domain names to find that link back to your main site.
With each new microsite you create, you're building a stronger web presence.
But beware – carelessly throwing up a bunch of microsites will not instantly increase your traffic or search engine results.
2. Helps the Right People Find You
Properly developed microsites don't just bring in more traffic – they bring in the right traffic.
The key is to purchase a keyword specific domain.  On this domain, develop a 3 – 4 page content heavy mini website that then points to your main website.
You need to take your time and determine which keywords your customers are using to look for your type of service or product. But if you focus on the proper strong keywords your microsite can significantly increase the amount and quality of traffic to your site.
Make sure your website is keyword specific.  Therefore when developing your microsite, you want to make sure your domain name, title tags, meta tags, meta description, and website content all focus on only one service area or product.
Once this new microsite starts to appear higher in search engines, visitors will be clicking in to find our more information.  Offer enough information to make the visitor interested to find out more.
An effective way to accomplish this is to have the Contact Us and About Us links on the small site link directly into your parent website.
3. Doesn't Break The Bank
Microsites are one of the more cost effective ways to improve your site performance.
What makes microsites cost effective is the short development time needed to create them. Because they are only made up of a few very focused pages, they are not a huge undertaking.
Since time is money when it comes to web design, and just about everything, the simple structure of these sites make them fairly inexpensive to create.
4. Major Brand Reinforcement
Consistency is a major component of creating a strong brand and your microsites are another tool to reinforce that brand.
Don't go crazy creating a new elaborate design for each microsite.
A properly designed microsite should have the same look and feel as the parent site. Keep the same colors, logo and design that you use on all your other sites. The navigation on all your sites should have a similar layout.
Keeping everything looking the same ensures that people aren't getting confused when moving from your microsite to the main site.  You don't want people being unsure of what site they are on.
With proper planning, these small sites can be the boost your company is looking for. Our experienced and knowledgeable team can create successful microsites for your company using the most effective keywords for your market. Contact Netwave Interactive and improve your sites performance today.