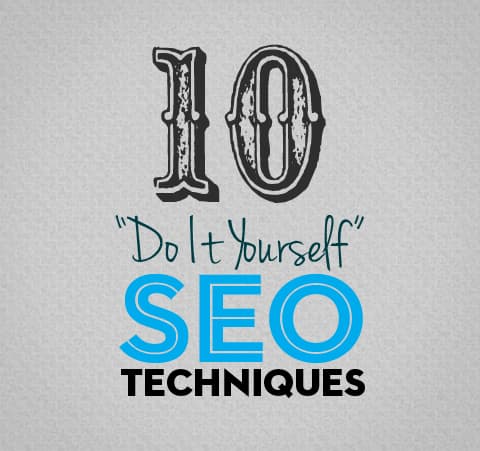 SEO is a highly sought after topic.  Everyone wants to know how do you get your website within the first page or two of the search engines? What factors go into determining my Google page rank?  Are there any items that I can do myself to increase my ranks?
There are companies who dedicate themselves full time to doing SEO at a pretty penny. Hiring an SEO agency comes at a high price and a lot of companies can't always afford.  Here is a list of 10 "Do it yourself" SEO techniques that assist in gaining organic ranks.
1. Title Tags
Each page on your website has a title tag.  This tag serves as a heading to a chapter of a book.  Search engines use these title tags for indexing.  The title tag is viewed by search engines as the most important tag compared to the description tag and meta tags.  When creating a new page on your website, make sure you include specific keywords in your title.
A page title is the first line item a search engine will look at when determining just what the particular page is about. It is also the first thing potential visitors will see when looking at your search engine listing.  The more relevant your page title is to a search word or phrase, the higher your website will appear.
It's important to include a keyword or two in the title tag of each page, but don't overload with keywords.  If you do, you will be committing a cardinal sin in SEO world which is known as "keyword stuffing." This act actually penalizes your site and reduces your changes of increasing organic rank.  Netwave Interactive recommends 20-30 characters in a title tag of each page. Most people will include either the company name, or title of the particular page here, as well.
2. WWW Canonicalization
Every website has a own domain name (example.com).  However that 1 domain name can be viewed as 2 different pages by Google, Yahoo, and Bing (www.example.com and example.com).  To help major search engines index your home page, Google and Microsoft allow users to determine their preferred listing.  Through the use of Google and Bing's webmaster tools section, you as a website owner can inform major search engines which domain name you would like to use.  Once completing the preferred domain, all home page traffic will be directed to your choice.  This will keep search engines from seeing two different sites on the same domain.
3. Proper Use of Heading Tags
This is a very important element to consider when writing out your site copy. Use of heading tags helps users, web browsers and search engines alike know where the major key points of your copy are.
Your main page title should use the <h1> tag — this shows what your page is about. Use of additional tags, such as <h2> and <h3> are equally important by helping to break down your copy. For one, you'll see a visual break in the text. But as far as the search engines are concerned, it will automatically know what your topics are on a page. The various heading tags give a priority to the content and help index your site properly.
4. Update robots.txt file with new pages added
By creating and adding this type of file to the root directory, you are guiding Search Engine robots as to what pages to read and index and what folders to bypass.  Some pages that are commonly blocked by site owners are CSS folders, https pages, sort pages, etc.  By creating a robots.txt file, you are directing search engine robots through your site to important information, while eliminating them from entering trap doors.  This in turn aids in your organic results because when SEO spiders enter into your website, they will not get "caught up" in any areas that they should not be in.  These SEO spiders will only index/review the pages that you want visitors to find.
5. Title Attributes on Links
Including title attributes on links is another important step that any good web site will have. That's the little "tool tip" that pops up when you place your mouse over a link. These are especially important for image links, but equally useful for text links.
As a note, you should use descriptive text for your links. "Click here" doesn't really tell a person – or more importantly, the search engines — what the link is. At the very least put a title tag that will explain that "Click Here" really means "Web Design Portfolio" for example. Better yet – make the main link text something like "View my web design portfolio" — this will give some value to the link showing that the resulting page is relevant to searches for portfolio's.
6. XML Sitemap
Similar to the robots.txt file, XML sitemaps "guide" search engines to your published pages on your website.  XML sitemaps are strongly recommended for site owners who have more then 100 pages or are constantly producing new content.  Also located in Google and Microsoft's webmaster tools, website owners can constantly update their sitemap when adding new pages or updating a websites navigation.  There is also a free tool to use which generates your XML sitemap for you.  Simply download your sitemap, and upload using a FTP program to your root directory.  Once completed, log into your webmaster tools section and notify Google and Microsoft that your sitemap has been completed.  your reward?  Faster indexing and higher organic ranks.
7. Relevant Content
So you have rewritten your complete website to have a large amount of keywords sprinkled through your text.  You have watched your organic rankings increase each week.  However, you are no longer receiving phone calls from new prospects.  Why?  Perhaps because your website copy makes your company sound unprofessional.  There is a fine line between over doing it and fully optimizing your website's copy.  Make sure you err on caution.  Keep in mind your website is a sales tool that is supposed to spark interest.  Although traffic coming into your site is a plus, if you are not receiving any inquiries, you have a bigger problem.  When creating your site copy, just write as if your were having a conversation with a new prospect.  Keep your information relevant to the topic of the page.
8. Link Building
We've probably all heard of Google Page Rank — it seems to be every web site owner's dream to have as high a page rank as possible. While the algorithm for determining page rank encompasses many elements, and is constantly changing, one item is the number of links pointing to your web site.
Now, you'll want to steer clear of link farms and other spammy attempts at getting links to your site. However there are many reputable and niche directory sites that you can use to submit your web site, or specific blog articles to.
With genuine content — especially if you have a blog — you'll be able to generate links with other web sites and blogs, as well. It's somewhat of a give and take, in that if you link out to other sites, you'll find sites linking back to you  — and hopefully see your page rank going up, as well!
9. Register website with multiple listing directories
As the internet has grown, there is a need for a directory.  There are free directories that allow web owners to create a website and company info listing.  These listings provide company location, link to their website, and sometimes a brief paragraph about services offered.  Some directories are strict as to what content you can add.  Others like Google Maps allow the website owner to register business location, website, hours of operation, services offered, company reviews, etc.  All of these directories send links back to the website owner's website which helps with Search Engine ranks.
10. Create Flat Websites
The Creation of flat sites has proven to be very effective.  The key is to purchase a keyword specific domain.  On this domain, develop a 4 – 5 content heavy website that then points to your main website.  Make sure your website is keyword specific.  Therefore when developing your flat site, you want to make sure your domain name, title tags, meta tags, meta description, and website content all focus on one keyword string.  Once this new flat site starts to appear higher in search engines, visitors will be clicking in to find our more information.  Offer enough information to make the visitor interested to find out more.  Have the Contact Us and About us links on the flat site link directly into your parent website.